Allen's Foodmart
Recipes
https://www2.allensfoodmart.com/Recipes/Detail/1690/Peppered_Rib_Roast_with_Roasted_Garlic_Sauce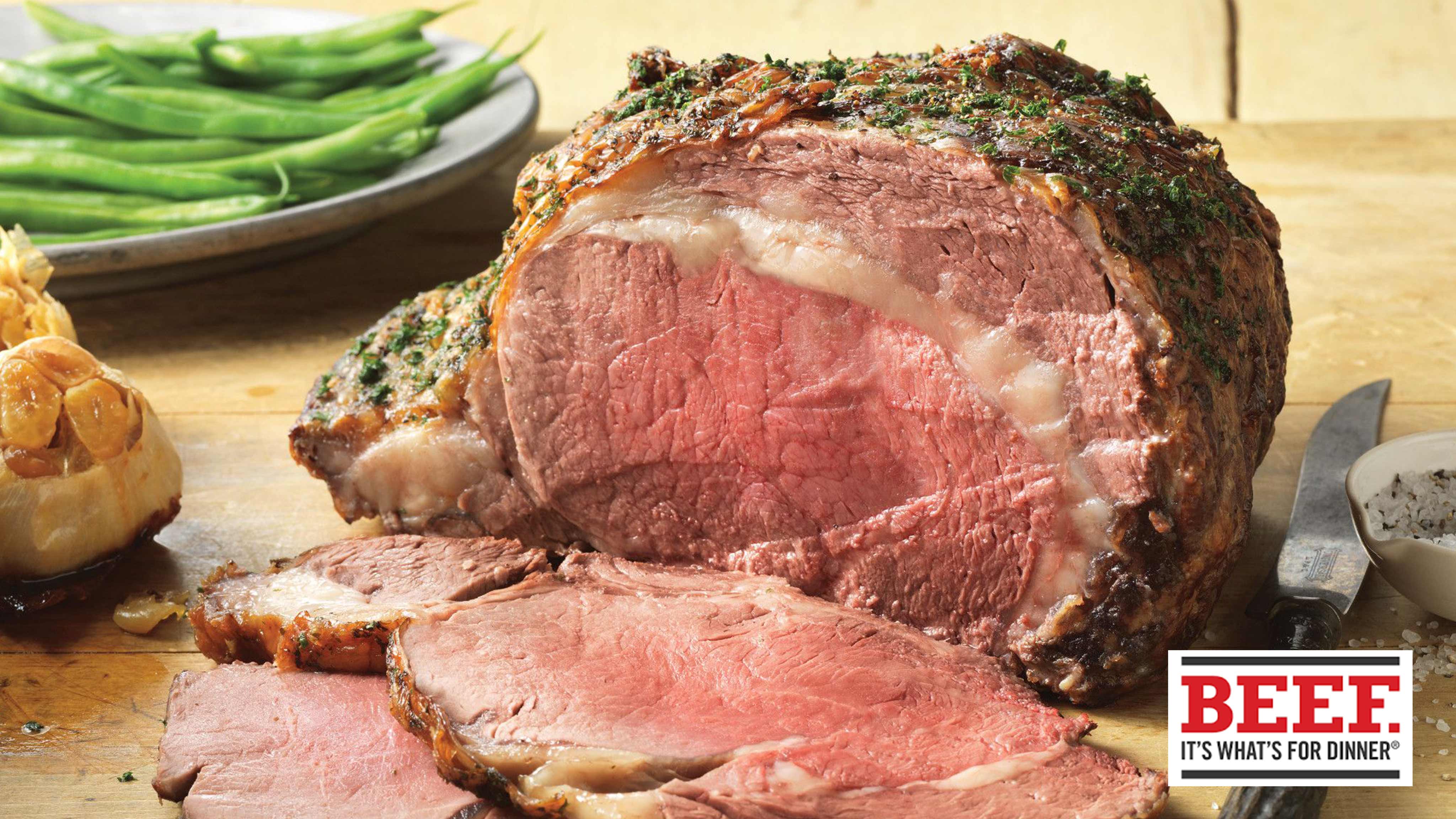 Peppered Rib Roast with Roasted Garlic Sauce
Show your friends that you are an expert in the kitchen. Peppered Ribeye Roast served with a creamy roasted garlic sauce is nothing but delicious.

Yield: 8 servings
Preparation Time: and Total Time: 3 hrs 15 min
Ingredients
1

beef Ribeye Roast boneless, small end, (4 to 6 pounds)

1
tablespoon

chopped fresh parsley

2
teaspoons

coarse grind black pepper

2

medium heads garlic

2
teaspoons

olive oil

1
cup

reduced sodium beef broth

2
tablespoons

dry sherry

1/2
cup

half and half

1/4
teaspoon

salt

chopped fresh parsley (optional)
Nutrition Facts
Yield: 8 servings
Approximate Nutrient Content per serving:
Calories:
196
Calories From Fat:
72
Total Fat:
8g
Saturated Fat:
3g
Cholesterol:
82mg
Sodium:
159mg
Total Carbohydrates:
2g
Dietary Fiber:
0.2g
Sugars:
0g
Protein:
26g
Directions:
Preheat oven to 350 degrees F. Combine 1 tablespoon parsley and pepper in small bowl. Press evenly onto all surfaces of beef roast.

Place roast, fat side up, on rack in shallow roasting pan. Insert ovenproof meat thermometer so tip is centered in thickest part of beef, not resting in fat. Do not add water or cover. Cut about 1/4 inch off top of each garlic head, exposing cloves. Remove outer papery skin, leaving head intact. Place in center of 12-inch square heavy-duty aluminum foil; drizzle each with 1 teaspoon oil. Bring two opposite sides of foil over garlic; seal with double fold. Fold in open ends to seal. Place alongside roast in pan. Roast beef in 350 degree F oven 1-3/4 to 2 hours for medium rare; 2 to 2-1/4 for medium doneness. Roast garlic 1-1/4 to 1-1/2 hours or until very soft and golden brown; set aside.

Remove roast when meat thermometer registers 135 degrees F for medium rare; 145 degrees F for medium. Transfer roast to carving board; tent loosely with aluminum foil. Let stand 15 to 20 minutes. (Temperature will continue to rise about 10-15 degrees F to reach 145 degrees F for medium rare; 160 degrees F for medium.)

Meanwhile, squeeze garlic cloves from skins into small bowl; mash with back of spoon. Combine garlic, broth and sherry in medium saucepan; bring to boil. Cook 10 to 11 minutes or until reduced by half. Add half-and-half; reduce heat and bring to a gentle boil. Continue cooking 4 to 6 minutes or until sauce is reduced to 1 cup, stirring occasionally. Keep warm.

Carve roast into slices; serve with sauce. Garnish with additional parsley, as desired.

SAFE HANDLING TIPS:
Wash hands with soap and water before cooking and always after touching raw meat.

Separate raw meat from other foods.

Wash all cutting boards, utensils, and dishes after touching raw meat.

Do not reuse marinades used on raw foods.

Wash all produce prior to use.

Cook steaks and roasts until temperature reaches 145 degrees F for medium rare, as measured by a meat thermometer, allowing to rest for three minutes.

Cook Ground Beef to 160 degrees F as measured by a meat thermometer.

Refrigerate food promptly.
Please note that some ingredients and brands may not be available in every store.
Allen's Foodmart Recipes
https://www2.allensfoodmart.com/Recipes/Detail/1690/