Allen's Foodmart
Recipes
https://www2.allensfoodmart.com/Recipes/Detail/8299/Hatch_Chile_Braciole_with_Pasta_Sauce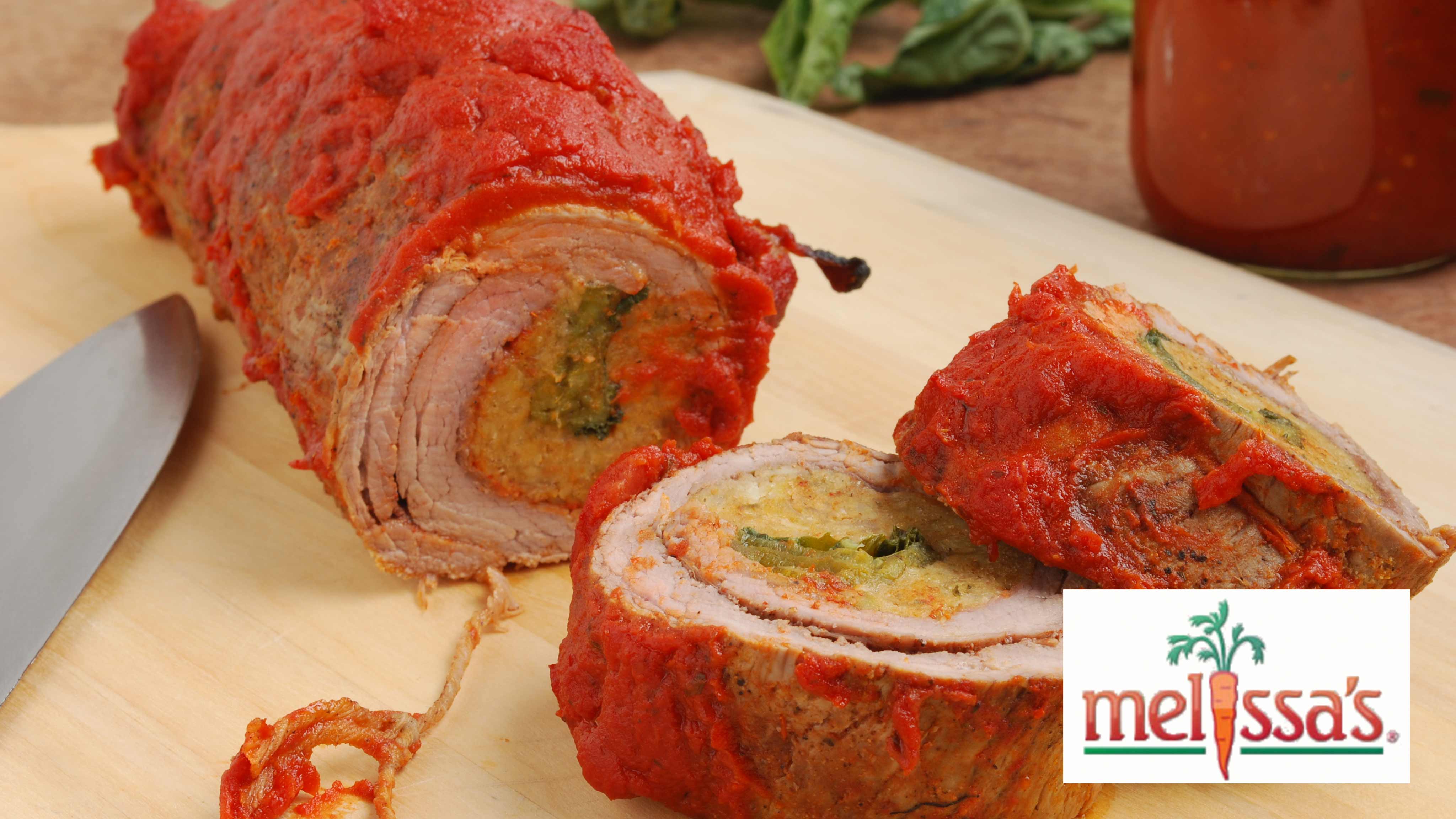 Hatch Chile Braciole with Pasta Sauce
By Chef Tom Fraker
Yield: 4 to 6 servings
Ingredients
2
pounds

flank steak, trimmed

Coarse salt and freshly ground pepper, to taste

1/2
cup

Italian bread crumbs

1/2
cup

fresh Parmesan cheese, finely grated

1/2
cup

fresh mozzarella cheese, finely grated

1

egg, slightly beaten

3

Melissa's New Mexico Hatch Chiles, roasted, peeled, and seeded

5

fresh basil leaves

2
tablespoons

extra virgin olive oil

Your favorite pasta sauce
Directions:
Preheat the oven to 350 degrees F.

Using a mallet, pound the flank steak to about 1/4-inch thickness. Season with the salt and pepper. In a bowl, combine the bread crumbs, cheeses and the egg. Spread the mixture over the bottom 1/3 of the flank steak and top that with the Hatch chile and basil leaves. Roll the steak up tightly and secure it with butcher's twine. In a large oven proof pan, heat the olive oil.

Place the steak in the hot pan, season with the salt and pepper and sear it on all sides. Next, pour the pasta sauce over the top and cover with foil. Place the pan in the preheated oven and cook for 20 minutes.

Remove the foil and cook for an additional 10 minutes or until desired doneness.
Pounding the flank steak makes it rollable and tenderizes it.
Please note that some ingredients and brands may not be available in every store.
Allen's Foodmart
Recipes
https://www2.allensfoodmart.com/Recipes/Detail/8299/