Allen's Foodmart
Recipes
https://www2.allensfoodmart.com/Recipes/Detail/9039/Baklava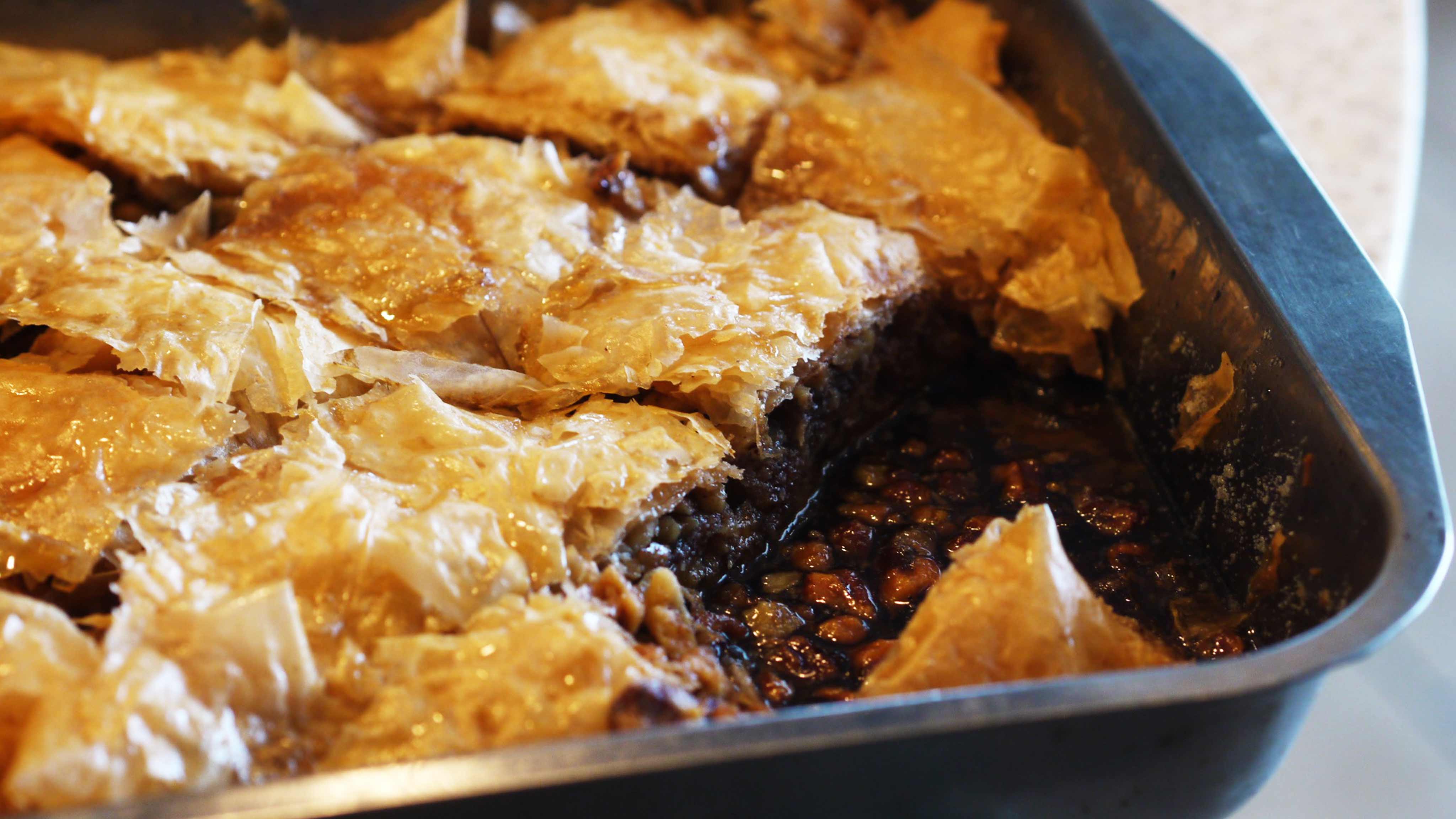 Baklava
Adapted from Alton Brown
Yield: 28
Preparation Time: 30 min; Cook: 1 hour 30 min; Inactive time: 8 hours
Ingredients
For the Filling:

2
2-3 inch

cinnamon sticks

15
whole

allspice berries

6
ounces

blanched almonds

6
ounces

raw or roasted walnuts

6
ounces

raw or roasted pistachios

2/3
cup

sugar

1/4
cup

water

1
pound

phyllo dough, thawed

8
ounces

clarified unsalted butter, melted

For the Syrup:

1 1/4
cups

honey

1 1/4
cups

water

1 1/4
cups

sugar

1

cinnamon stick

1
2 inch piece

fresh orange peel
Directions:
Preheat the oven to 350 degrees F.

Place the cinnamon stick and whole allspice into a spice grinder and grind.

Place the almonds, walnuts, pistachios, sugar and freshly ground spices into the bowl of a food processor and pulse until finely chopped. Do not over process the nuts, they should not be powdery. Alternatively, place the nuts in a sealable plastic bag, place the bag on a hard surface, distribute the nuts in one layer on the surface, and crush the nuts using a rolling pin. Set aside.

Place the water in a small spritz bottle and set aside.

Trim the sheets of phyllo to fit the bottom of a 13 by 9 by 2-inch metal pan using scissors or a pastry cutter. Using a pastry brush, coat the bottom and sides of the pan with butter; lay down a sheet of phyllo and brush with additional butter. Repeat this step 9 more times for a total of 10 sheets of phyllo. Top with 1/3 of the nut mixture and spread thinly. Spritz thoroughly with the water. Layer 6 more sheets of phyllo with butter in between each of them, followed by another third of the nuts and spritz with water. Repeat with another 6 sheets of phyllo, butter, remaining nuts, and water. Repeat with an additional 8 sheets of phyllo with butter brushed in between. Generously, brush the top sheet with butter and place pan in the oven and bake for 30 minutes. Then, remove pan from oven, cut into serving-size triangles and return to the oven to bake for an additional 30 minutes. Remove pan from oven, place on cooling rack, and cool for two hours before adding the syrup.

For the syrup: Starting during the last 30 minutes of cooling, combine the honey, water, sugar, cinnamon stick and orange peel in a medium saucepan and set over high heat. With a spatula, stir occasionally until the sugar has dissolved. Once boiling, boil for 10 minutes, stirring occasionally. Remove from the heat and discard the orange peel and cinnamon stick.

After the baklava has cooled, re-cut the baklava following the same lines as before. Pour the hot syrup evenly over the top of the baklava, allowing it to run into the cuts and around the edges of the pan. Then, allow the pan to sit, uncovered until completely cool. Cover and store at room temperature for at least 8 hours and up to overnight before serving. Store, covered, at room temperature for up to 5 days.
Photo and food styling by Webstop
Please note that some ingredients and brands may not be available in every store.
Allen's Foodmart
Recipes
https://www2.allensfoodmart.com/Recipes/Detail/9039/